CBD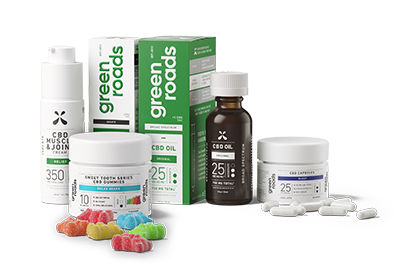 Cannabidiol (CBD) is a phytocannabinoid discovered in 1940. It is one of 113 identified cannabinoids in cannabis plants and accounts for up to 40% of the plant's extract. In 2018, clinical research on cannabidiol included preliminary studies of how it could help with anxiety, cognition, movement disorders, and pain.
Ultraviolet Resouces proudly carries only the finest of CBD brands.  
Green Roads is driven by our desire to help our customers live their best, and healthiest, lives. Simply put, they produce the highest quality, pharmacist-formulated CBD products on the market. Their obsession with the purity and potency of ingredients, proprietary formulations, multi-stage third-party lab testing and QR codes linked to lab results on every package, are all part of our commitment to our customers. It's no wonder they lead the industry in transparency and are proudly sold in more than 10,000 locations. Over the last several years, Green Roads has won multiple awards for quality products and industry leadership, and has been named the #1 privately held CBD company in the U.S. Although they love the recognition, they are far more honored by the heartfelt emails and social posts they receive from men and women all over the country who say that their products have changed their lives. We consider CBD to be the biggest health and wellness story of our generation, and we are proud to be helping millions discover its benefits. We hope you'll join the Green Roads family today.
Oils
Green Roads CBD oil products are both easy to use and offer all of the benefits associated with CBD and hemp. CBD oil can be used sublingually via a dropper, or it can be added to your food or beverages which is why most new users have made it their go-to CBD product of choice. Every item in our collection of CBD oils has been formulated by our licensed pharmacist of 25 plus years and then tested by independent labs to ensure that we comply with all industry standards and regulations.
Edibles
CBD edibles have gained popularity in recent years not only for their great taste but also for the positive effects that they have on the body. From gummies to fruit snacks, CBD edible products come in a variety of shapes, dosages, and delicious flavors. They have universal appeal in that they offer a simple and discreet way to get your daily dose of CBD. Besides their fun and colorful appearance and fruity taste, these edibles contain all of the benefits of CBD making them an excellent option for people looking for long-term relief over a short-term fix.
Topicals
Customers looking to buy CBD creams will find the best CBD lotion at Green Roads. CBD is a natural compound that is found in the industrial hemp plant. In order to produce the highest quality CBD muscle rub, Green Roads uses hemp that has been grown in the United States. The United States has a long history of growing hemp. In fact, it has been grown on our home continent since 1645! Our CBD cream for sale is a CBD topical cream applied directly to the skin. CBD Pain Cream is a unique item that has been artfully crafted by a licensed pharmacist with twenty years of experience.